LEXINGTON SMILE STUDIO IS OPEN FOR ALL DENTAL CARE PROCEDURES.
I was apprehensive to go to the dentist given the situation with the virus, but what they did to manage my safety and the safety of the employees was beyond what I expected.
Excellent and Clean Office. Very well prepared for reopening for COVID-19.
I didn't expect to be "blown away" by Lexington Smile Studio, but I was so impressed with how prepared they were following the new guidelines and by the care I received.
Patient protocols include: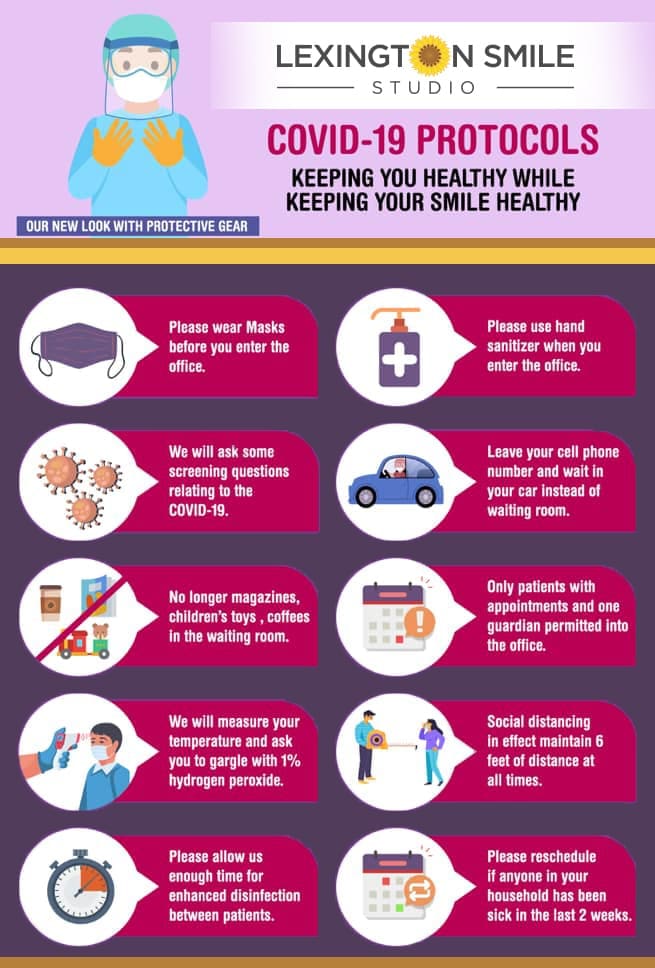 The health and well-being of our patients will always be our highest priority.
Lexington Smile Studio is following the infection control recommendations made by:
American Dental Association (ADA)

U.S. Centers for Disease Control and Prevention (CDC) 

Occupational Safety and Health Administration (OSHA)

Department of Public Health (DPH)
We have implemented the following protective measures:
Waiting Room
Our waiting room has been cleared of magazines, toys, and some furniture to reduce clutter, facilitate disinfection operations, and to comply with social distancing guidelines. Plexiglass barriers at the front desk counter and new medical-grade air purification units have been installed. Air filters with UV lights have been added to the ventilation system. 
Treatment Rooms
HOCL (Hypochlorous Acid) will be used to sanitize the office for maximum cleaning, disinfection, and aeration of each operatory. Each treatment room is equipped with air purification units containing medical grade H13 HEPA filters to eliminate any pathogens (viruses and bacteria) from the environment. High-speed suction, rubber dams, and disposable kits for nitrous oxide delivery will be used to minimize exposure and cross-contamination. 
Staff
All staff members will wear the appropriate Personal Protection Equipment in accordance with the job description and type of intervention to be performed. All staff will be monitored on a daily basis for possible symptoms or exposure.
As always, we will continue to provide emergency care as needed. Please call the office at (781) 861-7645 for dental emergencies, advice, or concerns. We will keep you informed as we learn more.
What To Expect
A member of our team will contact you 2 days prior to your appointment.
They will review COVID-19 prescreening questions and explain our current safety measures to you.
You must wear a face mask while inside our office.
We kindly ask that you sanitize your hands upon entering.
Additionally, our team will check your temperature with a touchless thermometer.
We have cleared our waiting room of magazines, books, water, and coffee stations to reduce cross-contamination.
Additionally, we've invested in hydrolyzed water to disinfect the office.
Air purification systems are in every room.
Lastly, extraoral suction machines are used during each dental procedure, which remove aerosol.
If you have questions regarding our COVID-19 protocol, contact our office to learn more.
Please stay safe and healthy!
DOCTORS AND STAFF AT LEXINGTON SMILE STUDIO