Meet the Doctors
Lindsey McElligott, DMD 
CO2 Laser Release | Lip Tie | Tongue Tie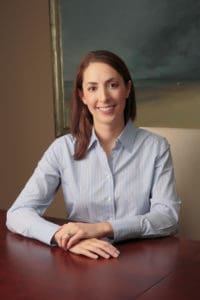 Dr Lindsey McElligott graduated from Tufts University School of Dental Medicine in 2008. While attending  Tufts, Dr McElligott earned the Tufts Merit Scholarship and was recognized on the Dean's Honor Roll for her performance on the National Board Examination.  She is an active member of the American Dental Association, Massachusetts Dental Society, and Spear Education Study Clubs.
Dr McElligott is a native of Anchorage, Alaska. She made her way to the Northeast to attend Wellesley College, from which she graduated in 2003 with a degree in Neuroscience.
She has been practicing restorative and cosmetic dentistry for over 10 years in the Metrowest area. She has a passion for treating young children and having experienced the troubles of a painful latch, gassy baby, sleepless nights, constant spit up with one of her children. Dr McElligott has learned a lot about lip and tongue ties over the years. She has attended the course of Dr Richard Baxter, an internationally renowned laser release of lip and tongue ties expert.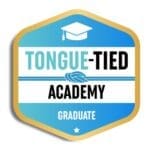 Dr McElligott is thrilled to join Lexington Smile Studio and continue to uphold their high standards of excellence.
She resides in Dover with her husband, three children, and dogs. She is an avid runner and enjoys cooking.
Mario Gatti, DMD, CAGS, FACP
Cosmetic Dentistry | Prosthodontics | Implant Dentistry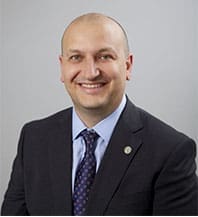 Dr. Mario Gatti is a Board Certified Prosthodontist with a strong background in comprehensive, surgical implant and esthetic dentistry and over twenty years of advanced clinical experience. He received his DMD and Post-Graduate degree in Prosthodontics from Tufts University in 2000 and 2007 respectively. Dr. Gatti obtained his Fellowship in Advanced Education in Esthetic Dentistry in 2008 from Tufts University. In 2010, he completed a Fellowship in Surgical Implantology from New York University College of Dentistry. During his time at NYU, he studied the surgical aspect of implant dentistry from world-renowned surgeons.
Dr. Gatti is a Diplomate of the American Board of Prosthodontics, and a Fellow of both the American College of Prosthodontists and the Greater New York Academy of Prosthodontics. In addition, Dr. Gatti is an assistant clinical professor at Tufts University in the Department of Post-Graduate Prosthodontics and a former President of the American College of Prosthodontists Massachusetts Section.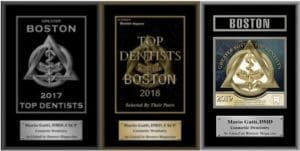 As a dedicated prosthodontist, Dr. Gatti gives his patients his total focus to provide an excellent dental restoration experience. For Dr. Gatti, it's critical that his patients feel comfortable and have a positive experience while in his care.
Dr. Gatti is originally from the Lake Como region near Milan, Italy. He currently resides in Concord, MA, with his wife Emily, and their three children Anna, Elena and Nico. He enjoys cooking, soccer, traveling and rooting for our Boston sports teams. He is fluent in Italian and Spanish.
Charles R. Braga, DMD, M.M. Sc.
Periodontics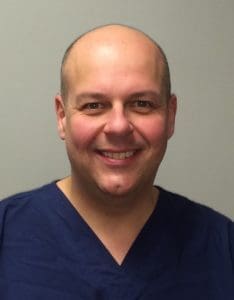 Dr. Charles Braga graduated magna cum laude from Boston University with degrees in Biology and French. He then went on to graduate magna cum laude from the Harvard School of Dental Medicine (D.M.D.) in 1994 and then completed a residency program in Periodontics at Harvard in 1996, during which he earned his Master of Medical Sciences Degree (
M.M.Sc
.) magna cum laude. He is an elected member of the Omicron Kappa Upsilon National Dental Honor Society, Alpha Omega, and the American Academy of Periodontology. During his residency, he was a clinical instructor in Periodontology for Harvard University's International Program in Dentistry.
Dr. Braga continues to teach as a LANAP trainer with the Institute for Advanced Laser Dentistry. He is a lecturer and seasoned veteran in the use of ND: Yag Dental Lasers and the LANAP Protocol. Dr. Braga is also certified in the use of carbon dioxide and diode lasers. Additionally, Dr. Braga was a former researcher in microbially-derived bioplastics and new drug development. Dr. Braga has been certified and has extensive experience with all types of implants. He enjoys all aspects of Periodontics, Dental Laser Science, and Dental Surgery and strives to provide consistent, predictable results.
Dr. Charles Braga, Born: 6 June 1967, Fall River, Massachusetts
B.A. Biology, French, 1989, Magna cum Laude, Boston University
D.M.D., 1994 Magna cum Laude, Harvard University
M.M.Sc., (Master of Medical Sciences) 1996, Harvard University
Certificate in Periodontology 1996 Harvard University
Currently Residing in Newmarket New Hampshire
Certified Instructor: 2004-Present Institute for Advanced Laser Dentistry
Former instructor in Harvard's International Program in Dentistry.
Research experience in new drug development, biostatistics,
and biopolymer chemistry for the Department of the Army.
Experienced in the use of Nd: YAG, Diode, and Carbon Dioxide medical lasers.
Dr. Braga enjoys Travel, Computing, Automotives, and Politics
Dr. John Govostes, DMD

Periodontics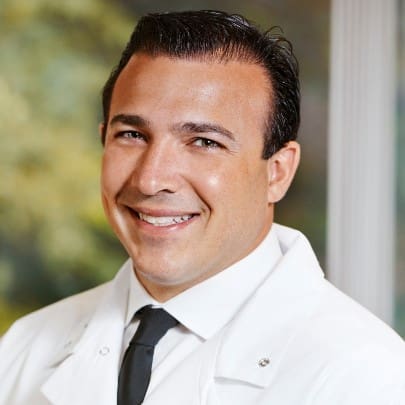 Dr. Govostes received his Bachelors of Science degree from the University of New Hampshire and then went to attend Tufts University School of Dental Medicine where he received his dental degree (DMD) and then later his specialty training in periodontology. Dr. Govostes is a Board Certified Periodontist.
Dr. Govostes limits his clinical practice to the field of periodontics which focuses on patient education, as well as the preservation of teeth through various non-surgical and surgical therapy modalities in the treatment of gum diseases (periodontitis), as well as implant dentistry and the treatment of other oral pathologic conditions associated with the mouth. The various services offered, but not limited to, include: reduction of gingival pocketing, cosmetic correction of recession and reconstruction with various gum grafting techniques, removal of hopeless teeth, replacement of missing or hopeless teeth with dental implants, as well the augmentation of bone, which is often times needed for future dental implant placement.
Dr. Govostes is a member of the American Academy of Periodontology, the Massachusetts Society of Periodontics, the Massachusetts Dental society, as well as a member of Delta Sigma Delta organization which is an International Dental Fraternity. Dr. Govostes has served the public by working in community dental clinics in Colorado, as well as volunteering for dental missions to Quito, Ecuador where he treated the underprivileged community. He also serves as a guest lecturer at the Yankee Dental Convention in Boston, MA. Dr. Govostes concerns himself with his patient's comfort, relaxation, and education as well as the quality of care he provides.
Fawn Rosenberg, DMD, FAGD
CO2 Laser Release | Lip Tie | Tongue Tie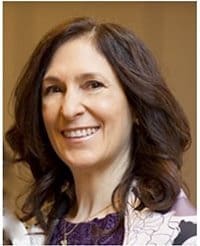 CO2 Laser Release | Lip Tie | Tongue Tie
Dr. Fawn Rosenberg is a Lexington cosmetic and CO2 laser lip and tongue tie release dentist. She has delivered excellent service for patients of Lexington MA for more than 27 years. Dr. Rosenberg utilizes her continuing education and up-to-date dental technology to offer you the best care. Her team is welcoming and always eager to assist you and your dental needs. Speak to us today about CO2 laser release, lip tie condition, tongue tie condition, and cosmetic dentistry.
Credentials
Dr. Fawn Rosenberg graduated from Tufts University School of Dental Medicine in 1985. She has since become one of Lexington's most sought after cosmetic dentist and lip and tongue tie doctor for CO2 laser release.
Awards
Periodontal Laser Gum Therapy
Nickelodeon Parents' Pick award for Best Dentist for Children in Boston
"A" Rating Honors Roll on Angie's List
Fellowship Award, Academy of General Dentistry
Memberships
She is an active member of the Academy of Breastfeeding Medicine, International Association of Tongue Tie Professionals, and International Consortium of Oral Ankylofrenula Professionals.
Meet the Hygienists
Jalila Green, RDH
A native of Morocco, Jalila graduated from Mount Ida College in Dental Hygiene in 2006 and Bachelors in Fine Art in 2008. As a registered dental hygienist, Jalila is experienced in treating both pediatric and adults patients. She enjoys all aspects of hygiene care and she's skilled in educating patients regarding clinical procedures and overall dental health. Jalila is fluent in English, French, and Arabic.
Lucy M. Mesrobian, R.D.H
Lucy received her Bachelor's degree from the Forsyth School of Dental Hygiene of  MCPHS University in 2016. Immediately after college, it was through her patient experience that she grew to love the field even more as she was able to develop her skills and relationships with patients. She strives to educate her patients of all ages about their oral health status in a friendly, and encouraging way. Her top priority is to make sure that their experience in her chair is as pleasant as can be, while helping them keep their beautiful and healthy smiles. Apart from work Lucy enjoys painting, baking, cycling, practicing yoga and spending time outdoors with friends and family. 
Meet the Dental Assistant
Brianna Giorgio, Dental Assistant
Brianna has been a dental assistant and working with us since 2012. She is passionate about what she does and makes the patients feel like they are at home.  She loves seeing the life changing improvements on the lip and tongue tie patients. She enjoys making people laugh and always brightens the room. In her free time she enjoys spending time with friends and family and pampering herself.
Meet the Front Desk
Elizabeth Montiel, Front Desk Coordinator 
Elizabeth has over 10 years of customer service experience. She is the friendly face greeting you at the door with a bottle of Purell in hand. She loves interacting with the patients and working alongside the staff every day. In her free time she enjoys spending time with friends, watching movies and brunch.
Erika Vasquez, Front Desk Coordinator 
Erika has 20 years of experience with dental customer service. She can help you with scheduling an appointment to explaining your dental coverage to you. She is fluent in Spanish and grew up in the neighboring town of Waltham. She enjoys spending time with her 3 children and loves watching them in all of their extracurricular activities.
Meet the Office Managers
Marianna Cincinnato, Office Manager
Marianna has 36 years of experience in the dental field.  As she oversees the office's day to day operations, her goal is to make sure each patient receives the personalized and individual attention they deserve.  During her spare time, she enjoys spending time and entertaining family and friends with her traditional Italian cooking.
Pamela Antonios, Assistant Office Manager 
Pamela is originally from Lebanon and is fluent in Arabic, French and English. She is compassionate and loves to help people. She is always going above and beyond for our patients by working with their insurance companies to make sure they can get whatever treatments they may need. In her spare time she likes going on hikes, spending time with friends and family and traveling.